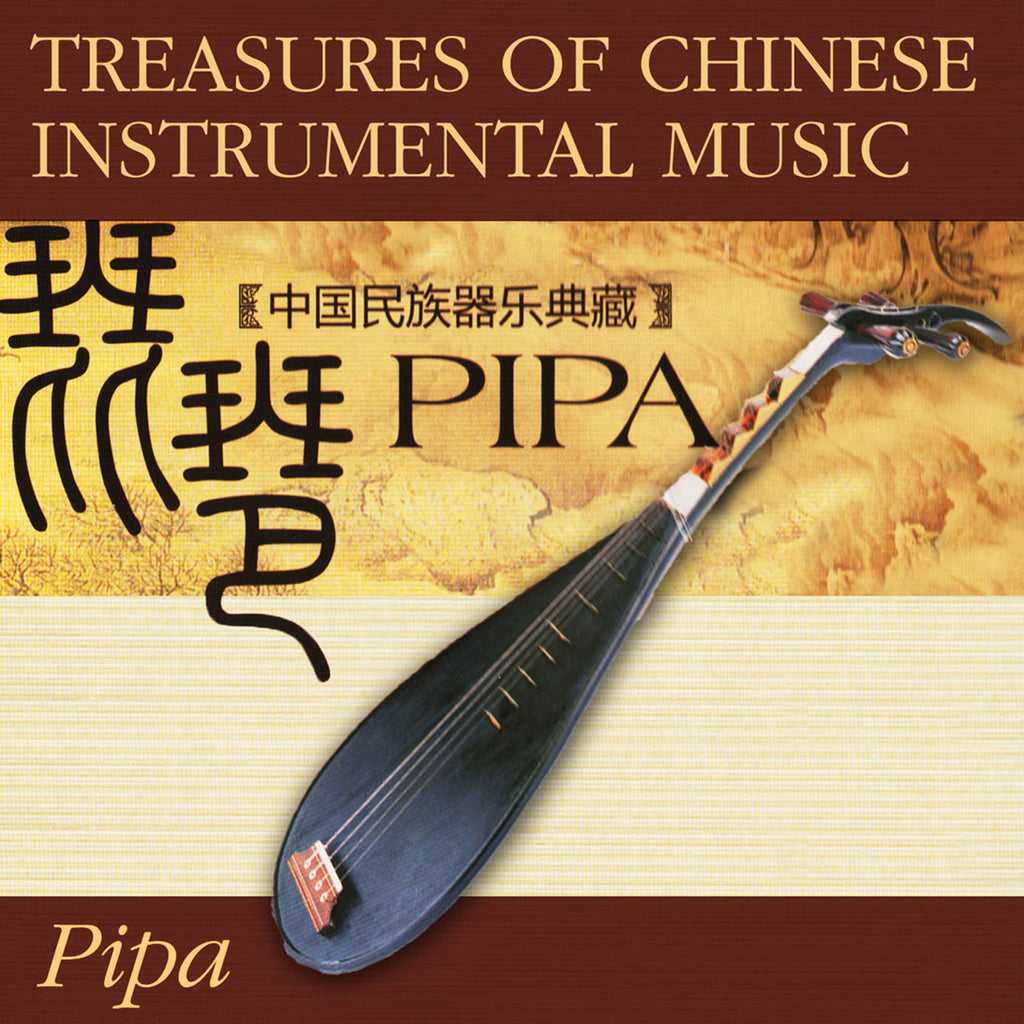 Treasures Of Chinese Instrumental Music: Pipa (Various Artists)
Release Date : September 4, 2012
Catalog : 73191-2
Format : Digital Download (AAC, Mp3)

Pipa, was originally referred to two plucking techniques "pi" and "pa" for all the plucked string instruments in East Han Dynasty period.  These were the right hand techniques, pi was played in forward direction and pa was played in opposite direction.  At that time, all of the plucked string instruments were then began to be called "Pipa".  Until Song Dynasty, Pipa basically referred to a special type of solo instrument with pear shaped body and bent head.
In Qin & Han Dynasties, there were mainly two types of Pipa.  One was with round body and animal skin on both sides with straight head.  Another one was also with round body and long head with four strings.  The latter one was later called Ruan because it was the name of a very famous player.
Around the fourth century (around 530 AD), a kind of Pipa, shipped to China through northern India.  Then it was widely spread to the southern part of China and well developed in Sui and Tang Dynasty.  In addition to being a solo instrument, Pipa also used for accompaniment of songs, dance, opera and always used in instrumental ensembles.
After a long development period, the imported Pipa has ongoing reformed to a pear shape instrument with four strings, use fingers instead of pick for plucking and changed the performing style from horizontal to vertical.  After 1950s, there was even much more development of Pipa.  The substance of the strings has also changed from silk to nylon and steel.  The improvement in more scales and larger volume enabled Pipa to become a very outstanding and brilliant solo instrument.
| T R A C K S |
VOLUME 1
01.  Pu-an's Incantation
02.  Kai Shou Ban
03.  Han Shou Ting Hou
04.  Ambuscade From All Sides
05.  Three Variations Of Plum Blossom
06.  Waves Washing The Beach
07.  Happy Days
08.  Dance Of The Yi People
09.  Spring Of Tianshan Mountain
10.  Story
11.  Yearning Over River Wei
12.  Dance Along The Old Silk Road
VOLUME 2
01.  Snow White In Sunny Spring
02.  The Heroes Gathering
03.  Autumn Moon Over The Han Palace
04.  Chen Sui
05.  The Moon Is High
06.  On The Frontiers
07.  Flowers Falling In The Green
08.  The Ancient Sound Of Dunhuang
09.  From The Opera
10.  Emperor Chu Shedding His Armour
11.  Swan
| C R E D I T S |
Executive Producer : Eiichi Naito
Artists + Repertoire, Remastering : Dino Malito
---
Share this Product
---
More from this collection