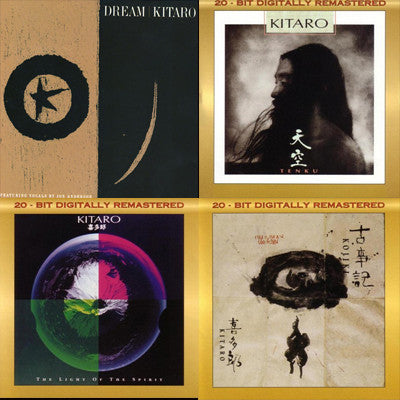 [Special Set] Kitaro Vintage Series Set (4 CDs)
Premium Kitaro Vintage Albums Series
This set includes:
- Kojiki (1997)
- Tenku (1997)
- The Light Of The Spirit (1997)
- Dream (1999)

Kojiki
20-BIT DIGITALLY REMASTERED!
Kitaro crafts this musical journey from the ancient chronicle (Kojiki) that recounts the birth of Japan and it's people.
Featuring the string section from the Skywalker Symphony, along with Kitaro's signature keyboard and flute sounds, the score to this thematic backdrop is full of passion and beauty that is masterfully conceived, arranged and performed.
Original Release Year: 1990
Tenku

20-BIT DIGITALLY REMASTERED!
The title, which means "heavenly sky", reflects the open air environment of Kitaro's home studio. On the opening track, a child's laughter is heard. The album's theme concerns images and impressions of childhood.
"I send a message of sound toward the sky, engulfing empty space, soaring far beyond grasp, high above the mountain tops, beyond ocean waves, stretching to reach the Andes and lightly touching Nepal . . . now catch the sound and feel the light by feeling things which are with life . . . this is a beginning - connecting the dream to the color of your breathless heart - peace and tranquility, you need only to sing . . . it is for you" --Kitaro
Original Release Year: 1986
The Light Of The Spirit

20-BIT DIGITALLY REMASTERED!
Co-produced by Grateful Dead drummer, Mickey Hart, The Light of the Spirit blends cinematic melodies and images from nature to explore spiritual aspects of the life cycle.
Featuring an ensemble of musicians and digitally remastered tracks, The Light of the Spirit is an enthralling exploration of melodic imagery and includes the Grammy nominated song, "The Field".
Original Release Year: 1987
Dream

Featuring the vocals of Yes' Jon Anderson, Dream is full of awe-inspiring moments that revolve around the themes of the spiritual, romanticism and love. It is beautifully scored with Kitaro's signature sound along with orchestral instrumentation.
Original Release Year: 1992
---
Share this Product
---
More from this collection