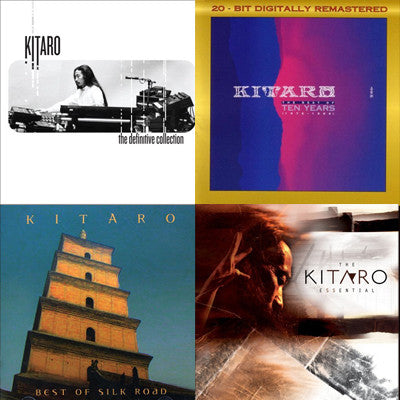 [Special Set] Kitaro Best Series Set (4 CDs)
Kitaro Best Album Series
This set includes:
- Best Of Ten Years (1997)
- Best Of Silk Road (2003)
- The Essential Kitaro (2006)
- The Definitive Collection (2007)

Best Of Ten Years (2 Disks)

20-BIT DIGITALLY REMASTERED!
Long recognized as one the most acclaimed recording artists in the Orient, Kitaro has always taken his music far beyond the borders of his native Japan. He has reached millions of people on every continent with his stellar recordings.
Though his public presence has always been cloaked in the tradition and mysticism of the culture into which he was born, Kitaro's music does not yield to boundaries or national categories. His compositions weave "a boundless playworld of a thousand pictures and a web of gentleness and wonderment".

This two disc set features the best of Kitaro from 1976-1986. It features music from his best selling albums during this period including Silk Road, Oasis, India, Millenia, Ki, Tunhuang and Silver Cloud. Realize this original and universal soul who has become the master of the wordless lyric and experience the peace and harmony of this collection.
Original Release Year: 1988
Best Of Silk Road

Written as the soundtrack to the long-running Japanese television series Silk Road, the music blends Kitaro's influences from traditional Japanese music and the romantic Western tradition. The documentary, about the ancient Silk Road that links Europe to China, became one of Japan's most famous television series.
A growing international contingent of fans grew quickly to admire Kitaro's soundtrack as a masterpiece for its serene and seductive arrangements, gentle melodies and combination of lush, majestic textures. The Silk Road music became a phenomenon that identified Kitaro by millions worldwide.
This soundtrack features a previously unreleased version of the "Theme from Silk Road" as well as "Pray at Xian/Mercury", which was recorded live in Xian, China during Kitaro's 2002 Silk Road tour.
The Essential Kitaro (CD & DVD)

CD+DVD Double Disc Set
The sheer breadth of Kitaro's eclecticism is on full display here, with selections from his essential soundtrack work collected on The Best of Silk Road (which accompanied the acclaimed Japanese documentary series) and 2002's The Soong Sisters, to his Broadway score for Cirque Ingenieux, as well as more personal creations such as the two-volume Sacred Journey of Kukai, a surprising melting pot of prog-rock guitar, haunting woodwinds, snippets of nature sounds and even Buddhist monk chanting. Though his studio output is indispensable, it's the live realm where Kitaro really shines. Thus, the DVD that complements this CD collection contains stunning footage of two very different but equally epic performances: a 1999 concert in Spain and a 2004 show in China, both demonstrating that Kitaro's music truly crosses borders to deliver a universal message..
Region: Region All
The Definitive Collection
Since the early '90s, the music of singular recording artist Kitaro has continually evolved over an astonishing run of 23 albums for longtime label Domo Records, garnering much critical and commercial success. The wordless poetry of this New Age pioneer is rooted in the traditions and musical sensibilities of his native Japan, while encompassing numerous world music influences. His multi-textured compositions are lush and transcendent, at once completely exotic and comfortably familiar. Warm and ambient, with earthly grooves, his sound reflects the inspiration Kitaro has long drawn from the beauty of the natural world, infusing his work with a peaceful, serene quality.
The sheer breadth of Kitaro's eclecticism is on full display here, including selections from "The Light Of The Spirit," a collaboration with the Grateful Dead's Mickey Hart; the Grammy Award-winning album "Thinking Of You;" as well as the two-volume "Sacred Journey of Kukai, an impressive melding of haunting woodwinds and nature sounds, inspires by Buddhist tradition.
The ten tracks on this Definitive Collection are an excellent introduction to the work of this New Age Master, illuminating his consistently impressive career. The disc offers a fine sampling of his vast output, ideal for first-time listeners and Kitaro completists alike. This music reveals the true depth of Kitaro's Unique and lasting artistry, standing as a testament to his enduring imagination.
---
Share this Product
---
More from this collection