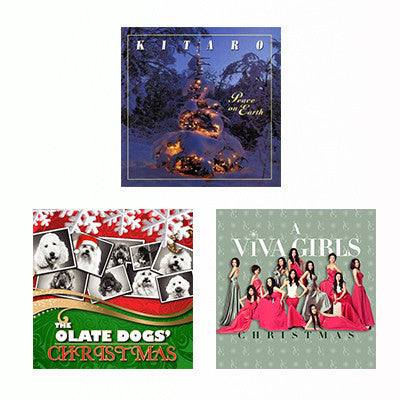 [Special Set] Domo Holiday Album Sets
Domo Holiday Album Sets
This set includes:
- Peace On Earth (1996) by Kitaro
- The Olate Dogs' Christmas (2013) by Olate Dogs
- A ViVA Girls Christmas (2010) by Viva Girls

Peace On Earth (1996) by Kitaro
The perfect backdrop for the holiday season! Peace on Earth is the first holiday album by the Grammy and Globe Award winning composer, Kitaro. This master of new age takes long time holiday favorites and orchestrates them like only Kitaro can, with ethereal overtones, spiritual subtleties and bursts of theatrical effects. Also included is an original Christmas composition composed by Kitaro. Peace on Earth is an atmospheric and intriguing holiday album that merges the finest of Eastern and Western culture instilling harmony and peaceful co-existence through melodies of passion and drama.
The Olate Dogs' Christmas (2013) by Olate Dogs
The Olate Dogs, winners of the 7th season of America's Got Talent, have travelled extensively and have performed on TV, circuses, corporate events, private events, NBS halftime and theaters.
Their new album, The Olate Dogs' Christmas, features the dogs singing to classic holiday favorites with a special guest vocals by Nicholas Olate!
Package: Cardboard Sleeve
A ViVA Girls Christmas (2010) by Viva Girls
Los Angeles, CA (October 27, 2010) - Musically, they're magic, having been classically trained and hailing from some of the most prestigious Schools and Universities. To the eye, the ViVA Girls present one of the most impressive and visually pleasing concert performances one can experience.
Their East meets West twist on a unique mix between classical and pop music is especially popular with American audiences. Now, with their US musical debut, the ViVA Girls present: A ViVA Girls Christmas available from Domo Music Group. The festive track listing includes: Christmas Joy, Auld Lang Syne, Love and Hope & Dream.
---
Share this Product
---
More from this collection