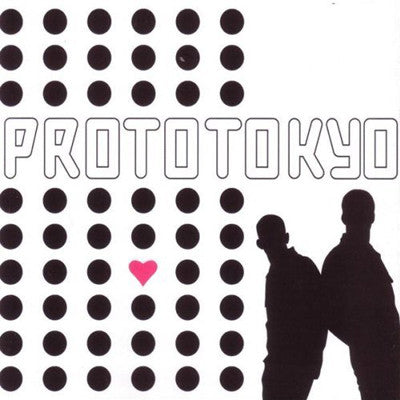 Prototokyo - Prototokyo
Released: June 21, 2006
Format: CD / Digital Download
"Have you ever smelled love?
Smells like wet metal on a bed of honey.
Smells like sex in a zipped-up tent.
Smells like chocolate.
And what does love sound like?
Sounds like Prototokyo.
When I first heard these bards – over at some optimistic sake - hop in Okinawa G - I thought: 'I guess music don't ever end.' Their sound is unique, tender, flirtatious. It's the ultimate soul-mash-up and get this: It comes from the future. Yes, that's right. Prototokyo's from a time period when then is now. A time after time. And thanks to a little thing called intervallic collapse, they've brought the party to their all-time favorite year: 2005. Take a good whiff, my distant friends, and say hello to the Love Regime."
-- John Coltrane XI, "Reboot Orchestra," 2222
But you don't have to take Coltrane's word for it. Just listen. This two-man outfit uses spaced-out hip hop beats, crazed grooves, and old school soul vocals to create their new, "retro-electronic R&B" sound. Simultaneously throwback and flash forward, Prototokyo is tight, catchy and nassty.
And it all starts on stage: The Protoshow combines electronic grooves and live instrumentation with tight dance routines andaudience participation. The result is a high-energy, funny and relentlessly positive vibe. Most recently, a Protoshow helped encourage a crowd member to profess his five-year secret love to his best friend. That night, they went home together and made sweet love...
You want some too?
Tracklist:
01. Protonarrative
02. Limp
03. Tina Meets Gina
04. Schoolboy
05. Underneath the Sheets
06. Stop Drop
07. 2222
08. Mission
09. Ticklish
10. Bananas Du Brasil
11. Play (Transmission)
12. DPT
13. Materialize
14. Love Love (Thursday's Child)
15. As I Lie
---
Share this Product
---
More from this collection