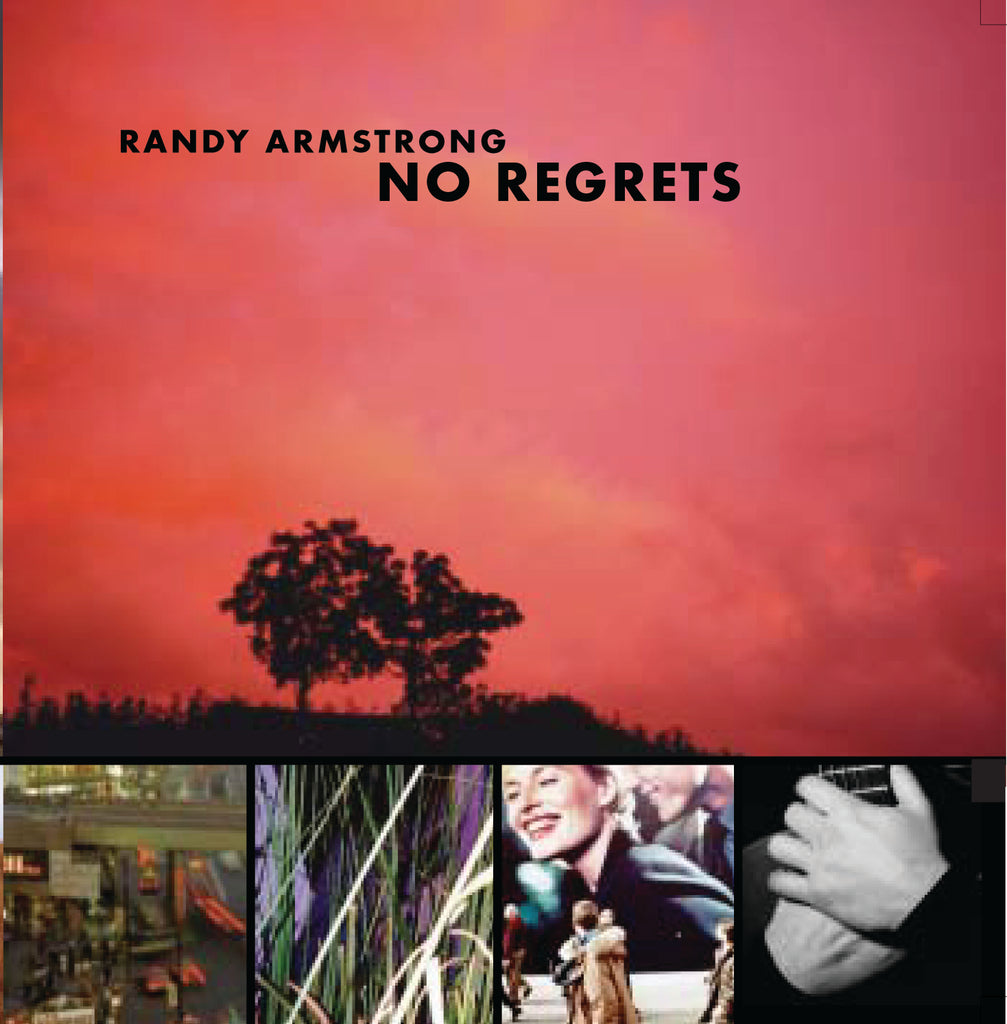 Randy Armstrong - No Regrets
Release Date : May 20, 2003
Catalog : 73018-2
Format : CD, Digital Download (AAC, Mp3)

Listening to No Regrets, Randy Armstrong's tenth album, is like listening to a whole season of concerts in one sitting. As one of the pioneers of the world fusion music genre in the early '70's with Do'ah World Music Ensemble, Randy brings all of his experience and performance genius to a collection of songs that range from the evocative sounds of a Lakota courting flute to a most sophisticated jazz guitar arrangement of Miles Davis' "Blue in Green." In between, Randy explores the full range of emotions and captures them in ground-breaking arrangements that further his reputation as one of the most innovative musicians of the era.
In No Regrets, Randy provides a showcase album not only of his lyrical flair, but also of his virtuosity with a widevariety of instruments and musical styles. Randy performs on two rare Michael Jacobson-Hardy handmade cutaway guitars, as well a 1948 vintage Gibson L7 jazz guitar and a Godin Jazz Multiac synth-guitar. In addition, he deftly coaxes echoes from cultures around the world playing the North Indian sitar and tabla, West African djembe, balafon, djun-djun, Lakota flute, and other instruments which he plays with equal virtuosity.
And of course in No Regrets, Randy explores a genre-defying variety of styles, including jazz, world fusion, western classical counterpoint, flamenco, North Indian, and Native American.
| T R A C K S |
01. No Regrets
02. Fisherman's Cancion
03. Seven To Twelve
04. Blue in Green
05. Summer Day Blue
06. Tribute II
07. Can't Wait To See you
08. Bahji Revisted
09. Crystal Silence
10. Love Has No Boundaries
11. Song For Peace

| C R E D I T S |
Composed, Arranged, Recorded, Mixed and Produced by Randy Armstrong
Mastered by Mac Ritchey
Executive Producer : Eiichi Naito, Howard Sapper
Artists + Repertoire : Dino Malito
Graphic Design : Kalim Armstrong


---
Share this Product
---
More from this collection