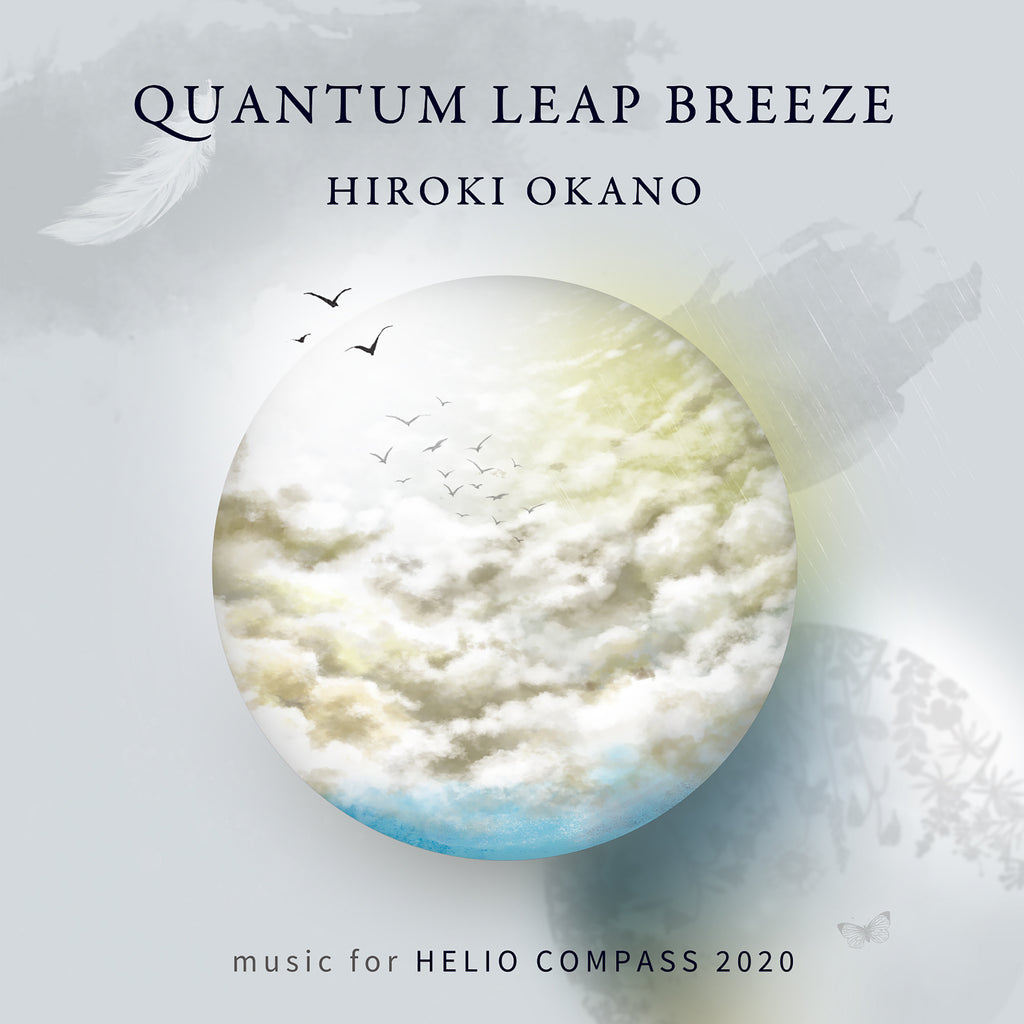 Hiroki Okano - Quantum Leap Breeze: Music For Helio Compass 2020
Release Date : June 4, 2020
Catalog : 73273-2
Format : Digital Download (AAC, Mp3)

Quantum Leap Breeze: Music For Helio Compass 2020 is a 50-minute grand musical score by Hiroki Okano.
Helio Compass has collaborated with Hiroki Okano, Japan's leading ambient music composer, to craft this unconventional series of musical pieces. Through this project, the one-year movement of the entire solar system has been rendered to a grand musical score. The 2020 version, the fourth collaboration with Okano, remarkably represents the phase of the present time and space. The entire composition features an arrangement of sounds every few seconds. Each and every sound perfectly coincides with this year's astronomical events, such as the 24 seasonal divisions and the moon phases, as well as major seasonal points on the calendar. The process of tracing the movement of each planet and transforming it into musical expression can be described as a shamanic experience which makes the music resonate with the sense of time and space. 
Okano worked on composing the entire soundtrack and performed all the instruments, including the Irish flute, the Greek string instrument, bouzouki, and multiple analogue synthesizers. These are only a small part of Okano's extensive collection of folk instruments which occupy almost his entire studio. In addition, Okano acquired some of these old instruments in the 1970s, repaired them and has cherished ever since. These vintage instruments sounded so beautiful that they amplified the effect of the complete composition to vividly express the depth of time, which could not be fully achieved digitally. Okano captured varied ambient sounds through field recordings across the world, including the sounds of bells resounding in Florence, Italy and those of a church located in Île de la Cité, a tiny island in the Seine close to Notre-Dame, Paris. 
From the beginning of the year 2020, we have been facing unprecedented challenges, such as natural disaster, the coronavirus crisis, and political and economic tensions. It is certain that these moments will be a major turning point globally. We are pleased to release this new musical piece, envisioning our new future in which humans will work in cooperation on this planet, in our universe.
| C R E D I T S |
Composed, Arranged, Recorded and Mixed by Hiroki Okano
Natural sound recorded by Hiroki Okano, Satoru Nakada, Miwafuku
Mastered by Hiroki Okano and Daichi Yuhara
Executive Producer : Eiichi Naito
Artists + Repertoire : Dino Malito
Additional Musicians : Miwafuku, TeN, Junko Okano
Graphic Design : Emi Sugiyama

---
Share this Product
---
More from this collection