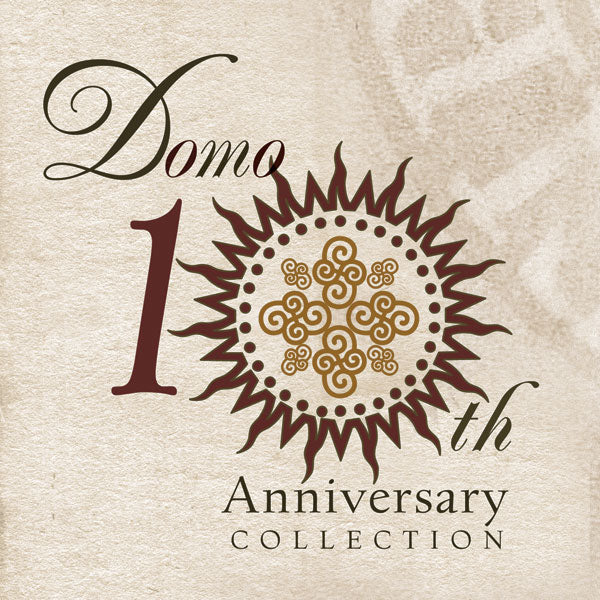 Domo 10th Anniversary Collection (Various Artists)
Release Date : February 8, 2005
Catalog : 73040-2
Format : CD, Digital Download (AAC, Mp3)

To commemorate Domo Records 10th Anniversary, this compilation highlights the "greatest hits" throughout its ten year lifespan. The album features and highlights some of the finest works of legendary recording artist Kitaro, Dave Eggar, Luis Perez, Randy Armstrong and The Yoshida Brothers. The album also features a bonus track - a brand new, previously unreleased track by Kitaro, Theme For Earthdance.

A soothing, ethereal collection of music, full of reflective, delicate moments and dreamy, intimate ambience, this album is perfect for anytime of the day when a sense of inner calm is in order. Atmospheric, yet organic and bursting with life, the Domo 10th Anniversary Collection is a stunning portrayal of the essence of Domo Records . . . elegant, intimate and beautiful.
| T R A C K S |
01. Daichi - Kitaro
02. Desire - Stephen DeRuby
03. Sleeping Woman - Luis Perez
04. New Moon - Luis Villegas
05. Peace Through Kindness - Nawang Khechog
06. Sicilienne - Steve Anderson
07. Fisherman's Cancion - Randy Armstrong
08. Dark Passage - Dave Eggar
09. Mediterranean Sunrise - Benedetti & Svoboda
10. Flying Celestial Nymphs - Yu-Xiao Guang
11. Planet - Kitaro
12. Theme For Earthdance - Kitaro
| C R E D I T S |
Executive Producer : Eiichi Naito
Artists + Repertoire, Compilation Producer : Dino Malito
Mastering : Gavin Lurssen
Graphic Design : Kio Griffith
---
Share this Product
---
More from this collection