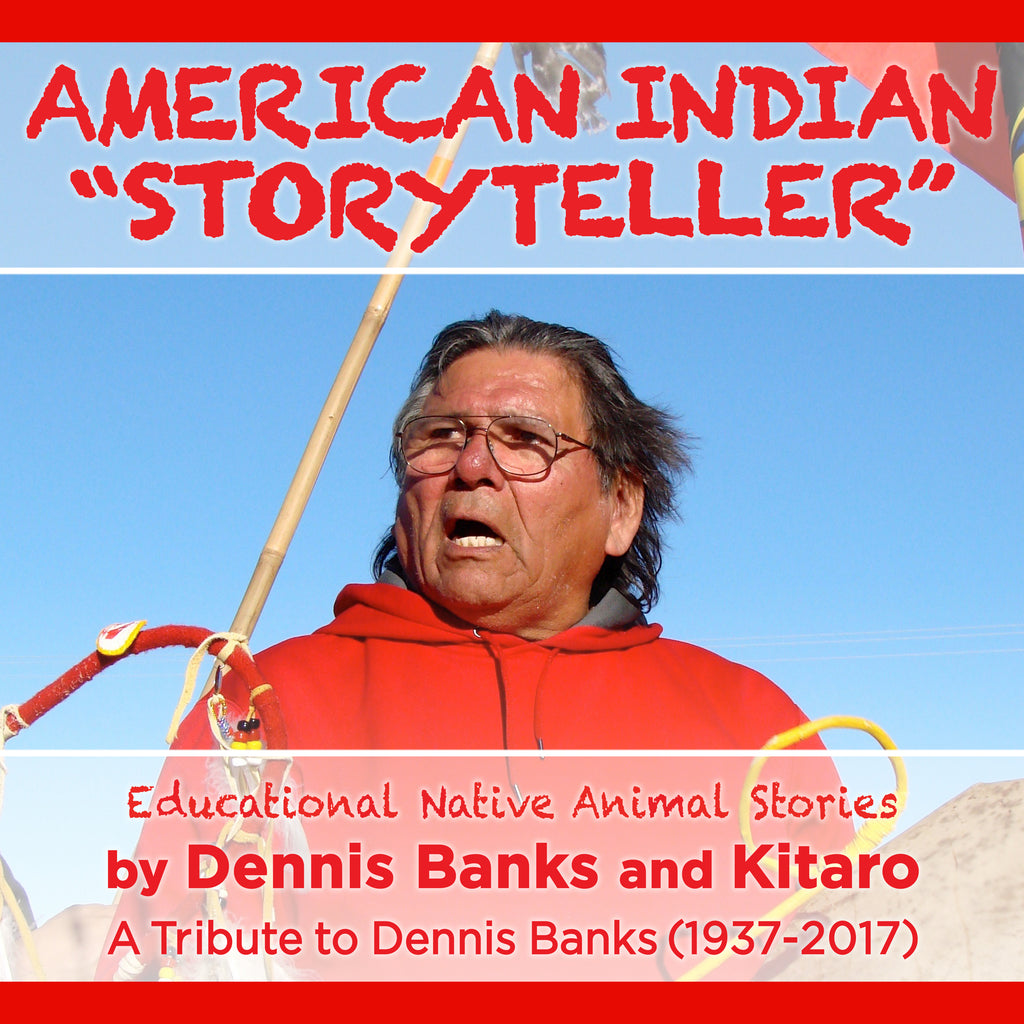 Dennis Banks, Kitaro - American Indian "Storyteller"
Release Date : August 14, 2020
Catalog : 73271-2
Format : Digital Download (AAC, Mp3)
American Indian "Storyteller" is a collection of educational native animal stories narrated by Dennis Banks with music by Kitaro. The album is dedicated to Dennis Banks who passed away in 2017 and are his last published messages.
An art as ancient and revered as mankind itself, storytelling is the colorful and binding thread woven through the patchwork quilt of humanity. Certainly, it is an art that is nurtured and respected in the highest order in the culture and customs of the American Indian. And, for decades, it is an art that found no better steward than Dennis Banks.
Together with the beautifully tasteful accompaniment of Kitaro, this venerated American Indian storyteller brings to life five timeless, wondrous, and educational Native Animal tales. In vivid voice and grandfatherly tone, full of charisma and character, Banks lovingly performs his parables of ants and elephants, hedgehogs and butterflies, with grace, wisdom, and wit. Truly, an immortal master of the craft.
Home to the last published messages from Banks, this incredibly special album is dedicated to the late orator, himself. This is a collection sure to be treasured by young and old, alike, with recordings that are as significant as they are sentimental. Uniquely underscored with an exquisite soundtrack that crosses generations and genres, it is a perfect pairing for the loving tribute that is American Indian "Storyteller."
| T R A C K S |
The Old Man And The Frog
The Ants And The Elephant
The Hedgehog And The Butterfly
Little Bear And Honey
Mother Earth
| C R E D I T S |
Produced by Kitaro and Dennis Banks
Recorded, Mixed and Mastered by Kitaro and Paul Lamb
Executive Producer : Eiichi Naito
Artists + Repertoire : Dino Malito
Photography : Takeo Koshikawa
---
Share this Product
---
More from this collection