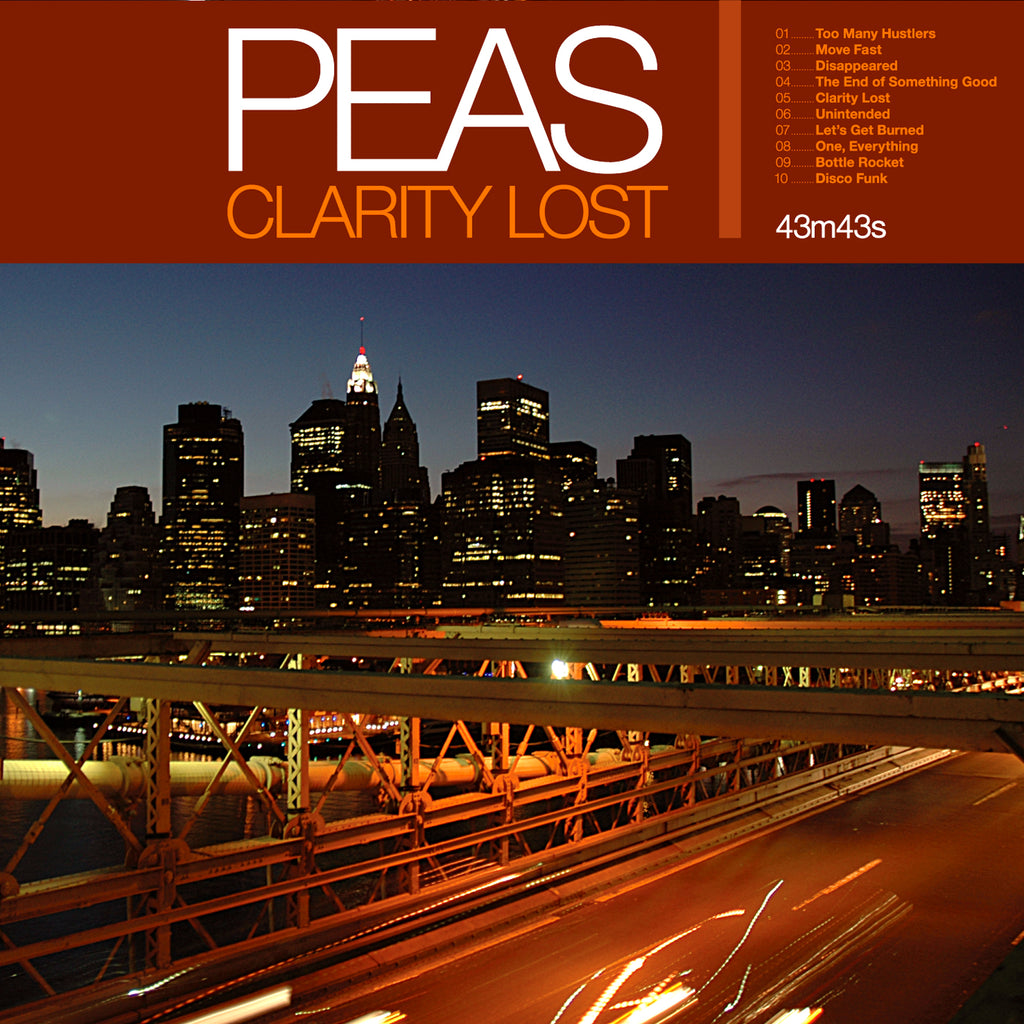 Peas - Clarity Lost
Release Date : October 20th 2009
Catalog : 73097-2
Format : CD, Digital Download (AAC, Mp3)

Clarity Lost is the sophomore release from Los Angeles-based producer and electronic music artist Peter "Peas" McEvilley. It is the anticipated follow-up to his album Filters, which spent two weeks at number three on the iTunes electronic music charts, was on the college music charts' top 15 for four weeks, and saw several tracks licensed for a variety of network television shows.
As a producer, McEvilley recently worked on a custom CD of laid-back house music tracks, New York Lounge, for specialty gift retailer, Brookstone. He has also worked as a producer/writer on several albums for Quango Music Group.
McEvilley's music has been featured on soundtracks and in films including Confessions Of A Dangerous Mind, Deuce Bigalow, The House Bunny, Grandma's Boy, and many more. He recently finished scoring the forthcoming feature film, Killing Leonard Riley. His television credits include Desperate Housewives, CSI:NY, 8 Simple Rules, Men in Trees, Bones, Real World/Road Rules, Huff, Dirt, One Life to Live, General Hospital, All My Children, Jockeys, and many others.
While the title of his new release might be Clarity Lost, for anyone listening, clarity is definitely found in these eleven tracks, as we hear Peas hone his skills and present a unique musical vision. This DJ is a master at getting listeners in the groove. With highlights including "Too Many Hustlers" and the title cut, Peas delivers an album full of intense beats, from dance floor bangers to headphone jams. Clarity Lost is a perfect addition to the collection of any serious fan of electronica.

| T R A C K S |
01. Too Many Hustlers
02. Move Fast
03. Disappeared
04. The End Of Something Good
05. Clarity Lost
06. Unintended
07. Let's Get Burned
08. One Everything
09. Bottle Rocket
10. Disco Funk
| C R E D I T S |
Composed, Arranged, Performed, Recorded, Mixed and Mastered by Peter McEvilley
Executive Producer : Eiichi Naito
Artists + Repertoire : Dino Malito
Art Coordinator : Kio Griffith




---
Share this Product
---
More from this collection