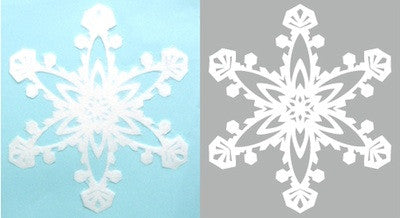 Handcraft Paper SNOWFLAKE "JOY" L size (7 Left)
Handcraft Paper SNOWFLAKE "JOY" L size

Reusable. No glue needed. Just spray water for window decoration.
"IEDA" Paper Craft company has been producing fine handmade Washi-paper (Japanese handmade-craft paper) for 128 years. This series utilizes traditional techniques based on sustainability, organic, and a peaceful state of mind. These "Snowflakes" represent 128 years of perfected technique combined with modern day tradition. Paper is made of 100% organic material without any chemicals. "Snowflakes" are versatile, just spray with water to attach to windows, string them from the ceiling with fishing string, or simply add an ordainment hanger to adorn your tree. Whatever you do, these "Snowflakes" will provide you with years of enjoyment.
[Detail]
1 pattern of snowflakes
L size: H 9.10 in (23cm) x W 8.27 in (21cm)

[How to Apply "SNOWFLAKE" to windows]
1. Remove SNOWFLAKE from the package.
2. Place it on clean glass surface.
3. Spray water onto the surface.
4. Gently press it with gauze to absorb excess water.
5. Let it dry naturally, and its done.
When dried, it can be peeled off and reused.
Make sure to let it dry completely for storage.

[Mino Washi's Story]
The history of Mino Washi goes back to the sixth century. Mino Washi is one of those traditional Japanese papers, which were used to keep records of important documents. Because of clear rivers and streams in Gifu Pref., paper industries have made handmade paper for a long time. Mino Washi is made from the fibers of kouzo, paper mulberry, through many processes. Its thinness and toughness can be ranked in the highest quality among many other washi papers. Even now, Mino Washi is used for important documents, which should be in good condition so many years. It is also used to mend National treasures. Mino Washi is used for lighting equipments in a guesthouse for VIP from abroad, which is under construction in Kyoto Pref.
* There will be no exchanges or refunds for this item.
---
Share this Product
---
More from this collection