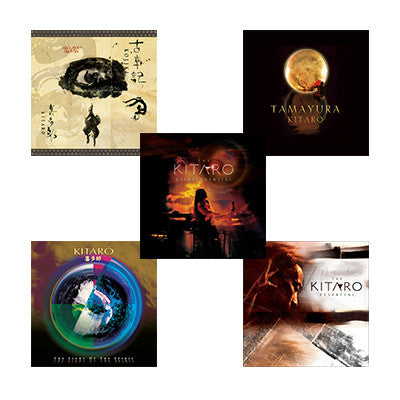 [Special Set] Kitaro CD+DVD Series
Kitaro CD+DVD Series
This set includes:
- Kojiki (2-Disc Remastered Deluxe Edition) (2015)
- Tamayura (2-Disc) (2013)
- The Light Of The Spirit (2-Disc) (2012)
- The Kitaro Quintessential (2-Disc) (2013)
- The Essential Kitaro (2-Disc) (2006)

* DVD Region: Region All
Kojiki
Marking the 25th anniversary of its debut, Domo Records will reissue a deluxe edition of Kitaro's critically acclaimed album "Kojiki" remastered from the original source tapes.
Accompanied by the string section from George Lucas' Skywalker Symphony Orchestra, Kitaro masterfully recreates the depths of the ancient Kojiki chronicle which recounts the birth of Japan and its people.
This 2-disc set also includes an accompanying 55 minute DVD-Video that captures a memorable live performance from the artist's 1990 World Tour.
Tamayura
As one of the founding fathers of the new age and world music genres known to his legions of fans by a single word, Kitaro, has consistently been at the forefront of the international music scene. Perhaps best known for his cutting-edge studio technique and flawless, sold-out live performances, Kitaro continues his tradition of carving his own musical and visual, artistic path on Tamayura. This special one night musical performance was choreographed by Koichi Tamano with The Harupin-Ha Butoh Dance Theater who bring the characters of the story to life.
On Tamayura, Kitaro takes his audience into life in a microscopic world and gives fans an artful look at what the lives of these characters are like. In this "micro" world, very unusual circumstances and situations occur. But, it's a beautiful world, where children in bubbles play and interact with the Fairy Of The Waterlily.
Through his look into this previously unseen world, Kitaro demonstrates the differences between our lives and the lives of those who exist in a microscopic place. As Kitaro notes, "Through my work on Tamayura, I hope that we all awaken in a manner which will help us to realize something individually personal. I'd like everyone who enjoys Tamayura to take from this event something that makes us all feel different."
The Light Of The Spirit
The Light Of The Spirit, co-produced with Grateful Dead's Mickey Hart, is an enthralling exploration of melodic imagery featuring the Grammy nominated song "The Field." Accompanying this Digitally Remastered Compact Disc is a bonus DVD blending cinematic melodies from the album with images from nature that explore the harmony between the spirit and our shared environment. The DVD running time is 49 minutes.
The Kitaro Quintessential
This authorized two-disc set includes a dynamic CD that has taken Kitaro to the four corners of the globe and back again, spiritually, physically and musically. Musical masterworks from the Sacred Journey Of Ku-Kai series, Kojiki, Dream, An Ancient Journey, Ancient, Gaia Onbashira, Impressions Of The West Lake and Kitaro's Grammy Award-winning disc, Thinking Of You are the chosen tracks featured on this release.
The DVD contains 123 minutes of breath taking live performance footage of his most popular and elaborate productions that have been edited and now appear as technical achievements in concert videos. Images on the DVD include live performances from An Enchanted Evening, Kojiki: A Story In Concert, Tamayura as well as The Light Of The Spirit, on which Kitaro's music is blended to spectacular nature videos.
Known for his reluctant superstardom, an exclusive, rarely seen 18 minute interview with Kitaro is also a featured on the DVD as a tribute to -- and special treat for – his loyal fans.
The Essential Kitaro
CD+DVD Double Disc Set. The sheer breadth of Kitaro's eclecticism is on full display here, with selections from his essential soundtrack work collected on The Best of Silk Road (which accompanied the acclaimed Japanese documentary series) and 2002's The Soong Sisters, to his Broadway score for Cirque Ingenieux, as well as more personal creations such as the two-volume Sacred Journey of Kukai, a surprising melting pot of prog-rock guitar, haunting woodwinds, snippets of nature sounds and even Buddhist monk chanting. Though his studio output is indispensable, it's the live realm where Kitaro really shines. Thus, the DVD that complements this CD collection contains stunning footage of two very different but equally epic performances: a 1999 concert in Spain and a 2004 show in China, both demonstrating that Kitaro's music truly crosses borders to deliver a universal message.
---
Share this Product
---
More from this collection